The Ultimate Live Band For Your Wedding Day
With male & female lead vocalists, live saxophone, keyboard and a repertoire that spans over four generations, The Vivas are undoubtedly the best choice for couples looking to pack the dance floor on their wedding day…
Male & Female Vocals, Live Saxophone, Keyboard & Pro-Tracks
The Vivas are one of, the best professional 4-piece wedding bands in the UK! With a show that features Female and Male vocals, Live Saxophone, Live Keyboards and much more….
We Are Now Taking Bookings For 2020 & 2021…
Booking For Your Wedding…
What Is Included With Your Booking With The Vivas
>> 2 Hours of Live Performance
>> Live Saxophonist
>> Male & Female Lead Vocals
>> Flexible, Interest Free Payment Plans
>> Hard Copy Contract
>> All Inclusive Pricing
>> Afternoon Entertainment Options
>> Pro-Grade Bose PA System
>> LED Stage & Disco Lighting
>> Professional Management
>> FREE Disco
>> FREE Guest Request.co.uk Account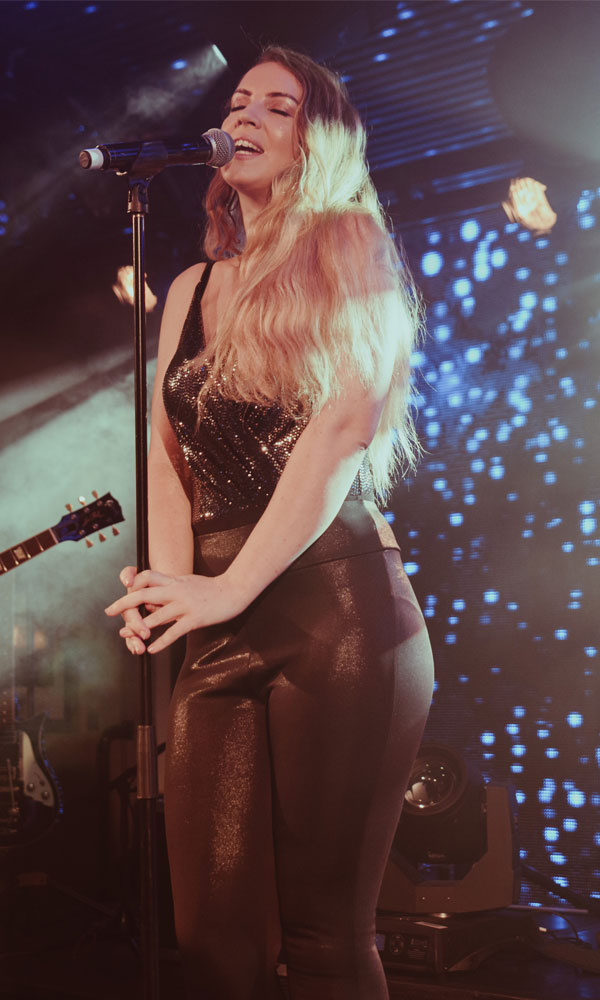 The Most Complete Line-Up
Additional Extras For Your Booking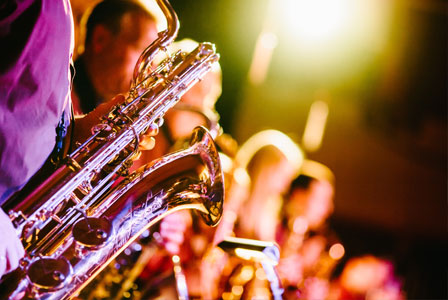 Live Saxophone
To make your event truly dazzling, The Vivas offer an extraordinarily afternoon and evening saxophone performance. A guaranteed crowd-pleaser, The Vivas' sax set has lit up events all over the UK.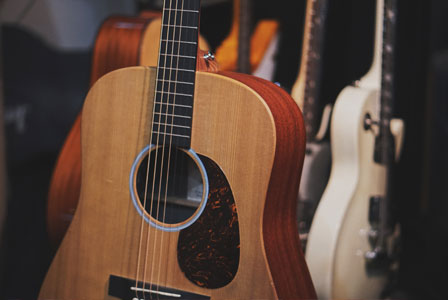 Acoustic Sessions
The perfect way to get you and your guests into the spirit of celebration with sing-along hits from the past 5 decades. Transform the afternoon of your wedding with an afternoon acoustic session from The Vivas.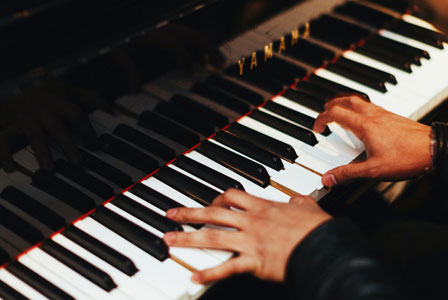 Piano/Keyboard
The sound of live piano music at a wedding can create the perfect atmosphere to encourage mingling and conversation over drinks and canapés. The Vivas' lounge piano set is the perfect addition for any event.
Brand New Videos for 2020 & 2021
Watch & Listen To The Vivas In Action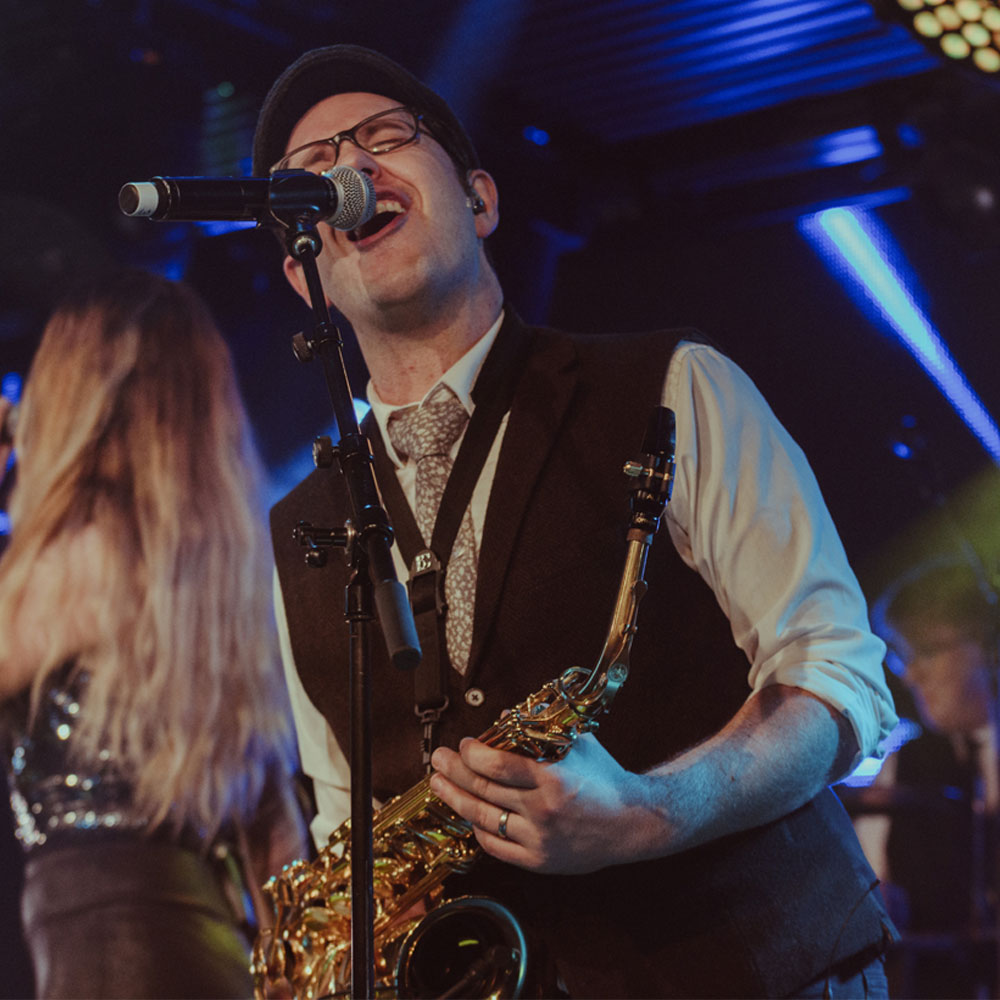 Huge Song List With Something For Everyone
The Vivas have one of the most diverse repertoires of any band in the wedding band industry! The bands sets include hits from the likes of Taylor Swift. Rhianna, Kings of Leon, Bruno Mars, The Killers, Beyonce, Justin Bieber, Fleetwood Mac, Oasis, U2, Olly Murs, Lady Gaga, Whitney Houston, Michael Jackson & more…. This means that whoever's at your wedding there'll be some tunes for them to sing and dance to all night!
Take a look at what people just like you had to say…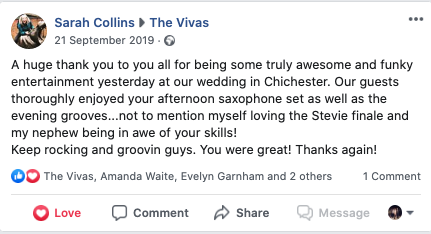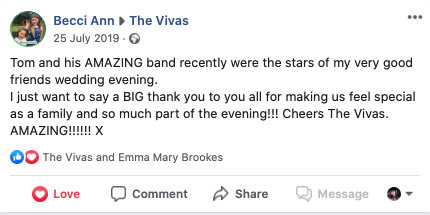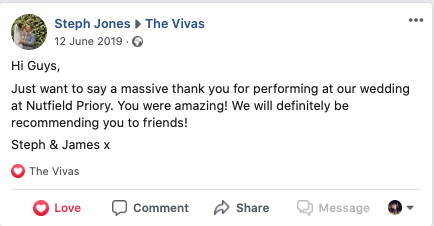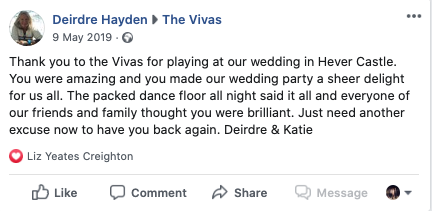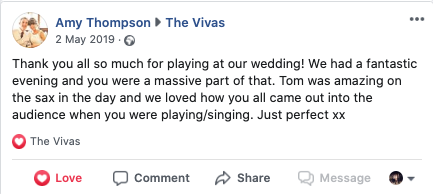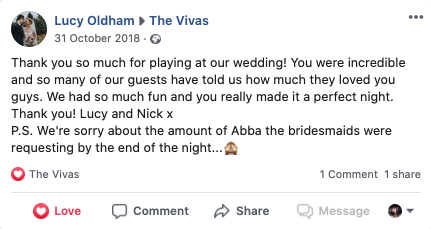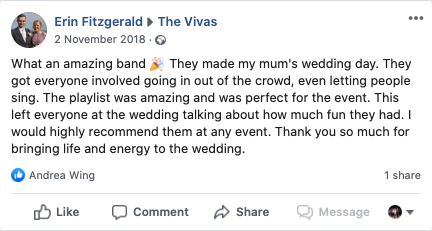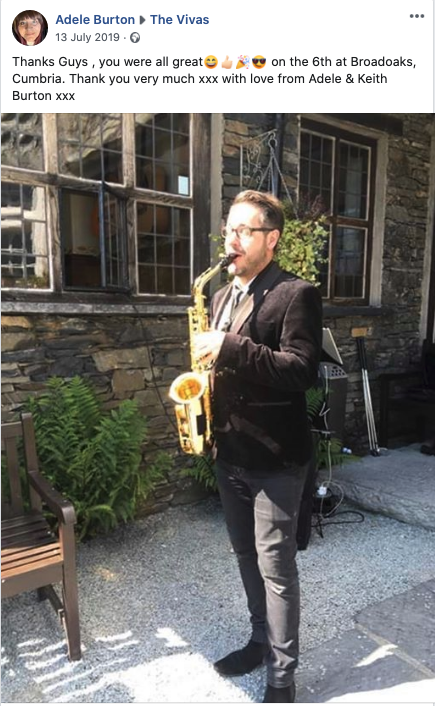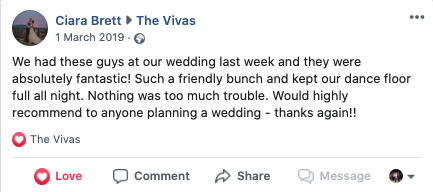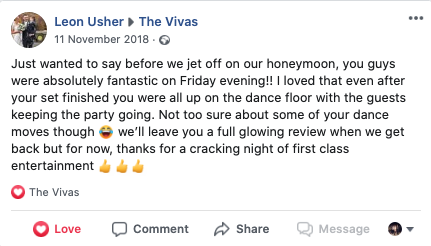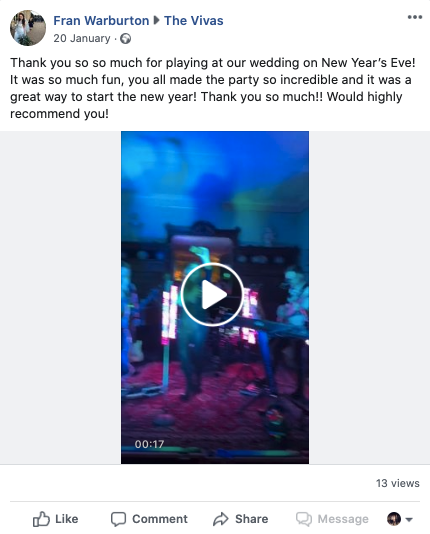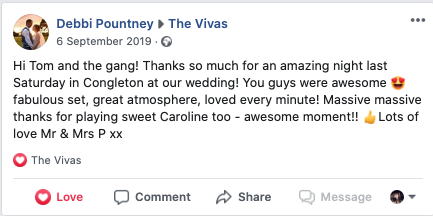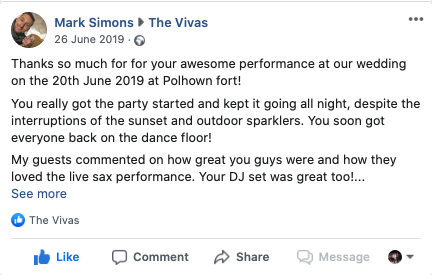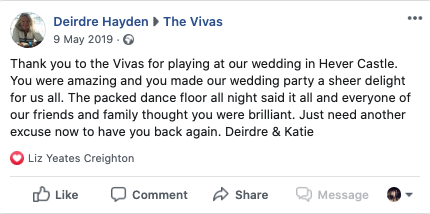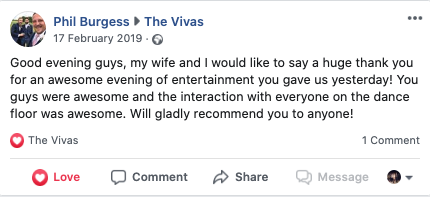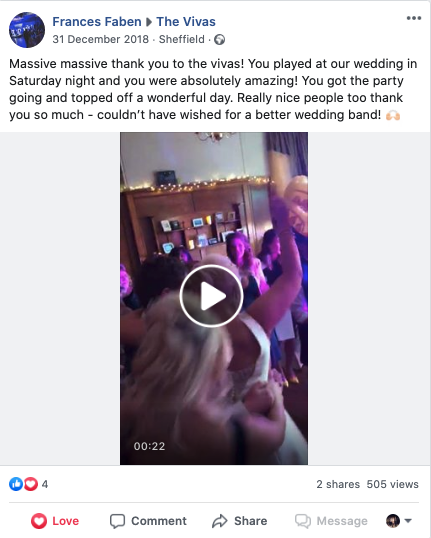 To find out more information on our pricing and what is included with your booking, please complete the form below and someone from our team will get back to you via email ASAP.